I'm in love...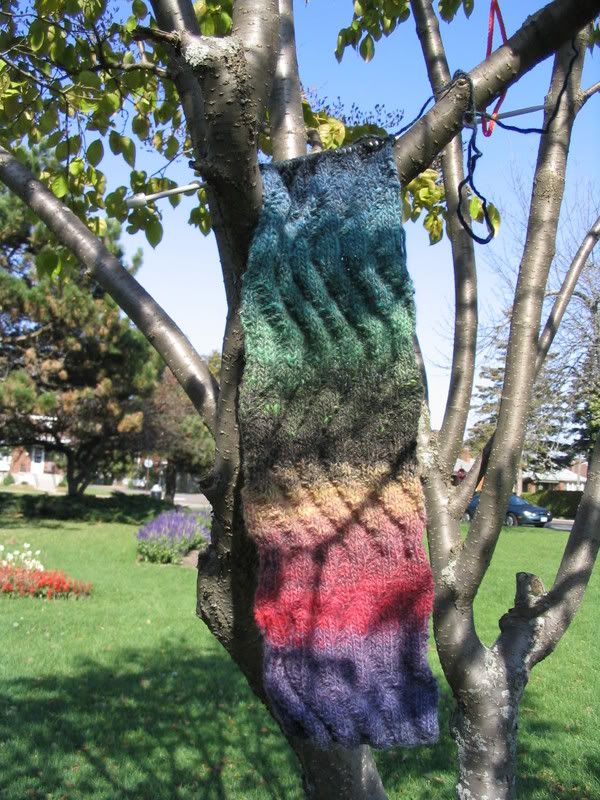 With my Noro Kureyon 92, and the
wavy pattern
. I've never knit with Kureyon before, and I LOVE it. Did I mention I love it??? I think I prefer it to Silk Garden, even. I like something wooly that you can feel in your hands like that. And I love the vibrancy of the colours, and the way they change. I knit nearly the whole ball in 1 day. 2 whole repeats (of the 44 row pattern) yesterday and another this morning. THAT'S how in love I am! I could potentially finish this entire scarf in one week, and we all know what a s-l-o-w knitter I am!
Feeling slightly creative today(probably because of the sunshine), I went to a nearby park and found an obliging tree for my photo efforts today. And thus cemented my image as a crazy person. People were looking, seriously. I'm still a crummy photographer, but I give you: Clapotis.
Edited to add: Nearly 7 balls of Noro Silk Garden in 225, but I added an extra repeat in the straight section because I wanted it a bit longer. Slight annoyance at yarn which broke several times -- found SG was not a consistent yarn, sometimes fuzzy and thick, not really spun in those sections, sometimes scary thin. But overall, it's still gorgeous and I'm really happy with it!!! (extra soft after the Eucalan spa treatment, too!)